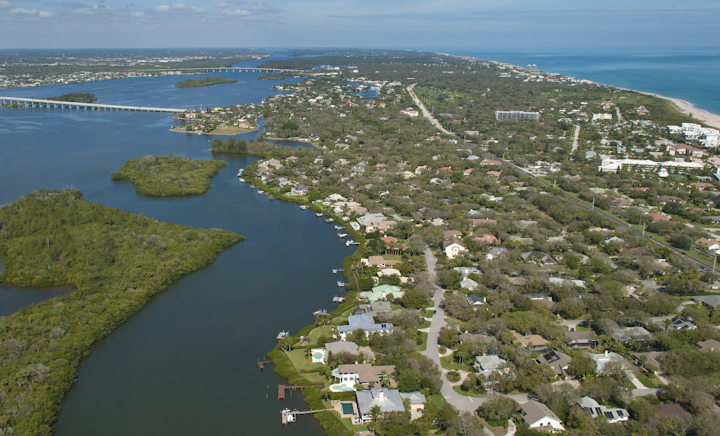 Vero Beach is a unique place in Florida's Treasure Coast, often referred to as the gateway to the Tropics and reminiscent of the charming Old Florida people loved as visitors or as residents.
Vero Beach has miles of pristine beaches, neighborhoods and streets shaded by canopy of old oak trees, charming boutique shops and restaurants along the Ocean Drive for a lazy afternoon walk. Vero Beach is rich in its art culture with many quality art galleries, a fabulous Art Museum with world-class exhibits and theaters that add so much to the quality of life in this nice beach town.
Residents and visitors enjoy a great outdoor lifestyle with great amenities such as award winning golf courses, boating, marinas and equestrian facilities. Vero Beach offers quality of educational and entertainment centers with great schools, public access facilities such as Sebastian and Fort Pierce inlets, numerous boat ramps, parks and recreational facilities are embedded into an incredibly scenic settings like the Indian River Lagoon to enjoy year round.
Visitors can stay in one of the two new luxury hotels and resorts including the 4-star Vero Beach Hotel & Spa and the new Gloria Estefan's oceanfront Costa D'Este resort.
Vero Beach has ranked second in a national CNN review as the one of the "Best places to invest in Real Estate in America". Vero Beach is the number 2 in the country for the most concentration of active and retired fortune 500 CEOs. Vero Beach is also ranked number four by Kiplinger's in the number of millionaires per capita.
Vero Beach attracts people from all over the world with much lower home prices than other Florida hotspots such as Palm Beach and Miami and offers luxury real estate equal in quality and splendor to those other popular destinations.
Affluent retirees and families and high-profile personalities have discovered this area making it one of the most desirable beach towns in Florida. Come and visit this beautiful place I call home and I will be happy to show you all that it has to offer in luxury and culture.